Rating: G
So, this is my attempt at a mini comic for SGA.
ratcreature
had mentioned a (long) while back about SGA coming across Cthulhu and this was what came of it. Rodney's first page ramble is courtesy of
rageprufrock
and all the dialog that sucks is mine. I have been working on this for away too long *posts and goes to collapse into bed*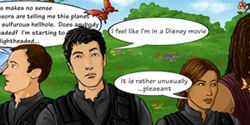 (
Read more...
)