Panel is Whoopi, Joy, Sunny, Sara
Tuesday Guest host Mary Catherine Ham
https://www.youtube.com/watch?v=H0NuuFPLB5E
More behind the cut
Hot Topic Tuesday Show Met Gala
https://www.youtube.com/watch?v=n6iWVqpu6DA
Whoopi talks about her Valentino design and meaning of couture and her shoes. Panel calls her an icon. Sunny liked her hair. Joy liked her gloves. Panel talks about other outfits and what happens after red carpet arrival.
AOC Tax the Rich dress. Joy was fine. She should've shown up with invoices. Some weird talk about masks. But they had to be vaccinated! Everyone had to wear masks inside. Whoopi talks about all the protocols (so, people need to shh). Sunny wants to talk more about fashion. Lupita, Jlo, Debbie Harry, Naomi, Iman, Keke. Whoopi goes back to taxes.
[There is one problem where the Uber wealthy are not legally taxed enough, and there is another problem where the Uber wealthy find legal loopholes to not even pay the taxes they're supposed to pay.]
Hot Topic Tuesday Show Celebrating at Funeral
https://www.youtube.com/watch?v=Kp9d4XHLZ-Y
TikTok video of sisters dancing at mom's funeral. Sunny is a morbid downer. Joy and Whoopi went to Joan Rivers funeral it was hilarious. Stranger lady says do what feels right for you and your family. Ignore strangers policing your decisions or better yet limit comments or don't post. Rest of panel says you do you.
Hot Topic Tuesday Show CA Governor Newsom Recall
https://www.youtube.com/watch?v=o7hu7g3iaUA
CA Gavin Newsom recall. Elder already has website that Newsom won due to voter fraud, except election isn't until today! 🤡 Stranger lady is anti election fraud conspiracies. RNC has no platform and suppresses votes, nobody would vote for them without cult conspiracies. Where's Caitlin Jenner /crickets.
Hot Topic Tuesday Show Gabrielle Union
https://www.youtube.com/watch?v=B7sT3LQZRvw
Gabrielle Union is promoting her book You Got Anything Stronger. Talks about >> Met Gala, topics covered in her book, being open and vulnerable, fertility struggle, her children, her Instagram video, what children teach about motherhood, peri-menopause and dealing with those symptoms, [CW] topic.
Hot Topic Tuesday Show Behind the Table Podcast
https://www.youtube.com/watch?v=7BYIMtyd8SQ
The View launches a new weekly podcast Behind the Table with bts gossip and stories. Whoopi introduces it in a weird British accident. Shows clips.
Monday Guest host Mary Katherine Ham
Hot Topic Monday Show Bush43 Says Insurrectionists Are Terrorists
https://www.youtube.com/watch?v=R2xj3WzVqlw
Bush43 who lied our country into Iraq war gave a speech on 911 where he bluntly said insurrectionists are extremist terrorists, also called for a return to civil discourse. Broken clock right 2x a day syndrome. Bush43 who used to be worst in word salad until T45 came along, gave a diplomatic but pointed speech. Stranger lady says whatever but she was normal about the wrong things she said.
Hot Topic Monday Show Bill Maher on Woke Liberals
https://www.youtube.com/watch?v=2mp5mEe6CGo
https://www.youtube.com/watch?v=DgVbOqY2S4w
Bill Maher says a bunch of nonsense. Whoopi takes him to task. Sara talks about over-correction on some things, Joy misses some of her point and goes back to how the National Anthem (3rd stanza) is obviously problematic.
Sunny goes back to some of Maher's other comments, which she quotes studies that show children know at a young age that they're treated differently, stranger lady doesn't articulate very well she says a lot of words but doesn't always make sense (who IS this woman?), Whoopi is very heated on this topic.
Hot Topic Monday Show Andrew Garfield
https://www.youtube.com/watch?v=3rGOmHHF-3I
Andrew Garfield joins to promote The Eyes of Tammy Faye, where he plays grifter televangelist Jim Bakker. He talks about >> why he couldn't come in person (covid cases on set of his current project in Canada), missing premiere for same reason, Jessica Chastain red carpet moment with Oscar Isaac, the movie, Tammy Faye advocating to support LGBTQ community.
Hot Topic Monday Show Every Day Heroes
https://www.youtube.com/watch?v=NrQugLjh8nc
The View promotes America Strong which I did not listen to
Friday Guest host Star Jones, plus Ana is back
Hot Topic Friday Show Ana Navarro Returns to Studio
https://www.youtube.com/watch?v=ijUahlufsDU
Whoopi takes Fridays off
Ana fills in for Whoopi on Fridays, this is her first appearance back in the studio. Ana talks about her summer. She went to Hawaii. She tried intermittent fasting which lasted a week then went on vacation and returned to permanent non stop eating. Sunny looks like a cinnamon bun to her.
Hot Topic Friday Show Star I AM A LAWYER Jones
https://www.youtube.com/watch?v=M--xC2TfKZI
First there are clips of Star Jones being a host. They talk about her time on the show and she turns 60 this year. Star jokes Black don't crack but Ana says Brown does frown. Lol.
Hot Topic Friday Show 911 Reminiscence
https://www.youtube.com/watch?v=HCWSTuQX9II
The panel talks about what they were doing on 911. Star says they (the panel that day) was arguing about a segment involving a celebrity athlete who was rumored to be having an affair, and the wife was a friend of Star and she didn't think the show should do the segment -then everything happened. The rest of the panel tells their stories. Sunny was arguing in front a grand jury, US Marshalls ran in with guns drawn.
Hot Topic Friday Show Biden New Covid Plan
https://www.youtube.com/watch?v=PP9aMExTIKA
Biden laid out his new 6-point plan where he scolded and pleaded with the anti vaxx crowd, which made them whine more.
1️⃣ Mandate companies with >100 employees require vaxx, employers provide paid time off for vaxx, require all federal exec branch and contractors get vaxx, all 17 million health care workers get vaxx, request entertainment venues require proof of vaxx or testing for entry
2️⃣ Easy access to booster shots -free, available, locations serving all communities, toll free help in 150 languages
3️⃣ Protect in-person student instruction, request states require education employees be vaxx, require Head Start staff be vaxx, test students and staff regularly, support FDA review of vaxx for < 12 year olds
4️⃣ Use Defense Production Act to procure 300M at-home test kits, make home test kits 35% cheaper, send 25M free test kits to community health centers and food banks, double fines for anyone who defies TSA mask rules
5️⃣ Loans $500K to $2M for small business to hire and retain employees, purchase inventory, and pay off higher interest rate debt, make it easier for 3.5M PPP borrowers with loans <$150K to get loans wiped clean, launch Community Navigator Program to connect small businesses to help
6️⃣ Increase covid support for hospitals, Double DOD teams of clinicians deployed to hospitals, increase weekly shipments of antibody treatments by 50%, deploy federal antibody strike teams
Hot Topic Friday Show Rep Adam Kinzinger (R-IL)
https://www.youtube.com/watch?v=GyizUeQzZeE
https://www.youtube.com/watch?v=3hzxWIQOpKY
Rep Adam Kinzinger (R-IL) and future presidential candidate joins. He talks about >> unity or lack thereof in America, Afghanistan, armchair critique of the exit (despite Biden admin evacuating > 122,000 people, and the Americans still there were told 19x since April to get out), Taliban (who T45 made a deal with that he signed, but they didn't).
Also talks about >> Biden covid plan, anti vaxxers, fear mongering, Freedom Caucus, serving on Jan 6 Committee
Hot Topic Friday Show America Ferrera
https://www.youtube.com/watch?v=T94dBczOb1Y
America Ferrera joins to promote her Latina platform Poderistas. She talks about >> Spanish pronunciations, new baby and other son, foraging for mushrooms, Texas SB8, her political activism via Poderistas and upcoming summit 17-19 Sept, follow @poderistas to watch, not just civic minded, also community focused on all aspects of Latina life.
Thursday Guest host Mia Love
Hot Topic Thursday Show DeathSantis Overruled on School Mask Mandates
https://www.youtube.com/watch?v=8-OmfJTDNII
FL Governor DeSantis wouldn't allow schools to mandate masks. A judge overruled him. Major spike in infections for children. First it was seniors, now it's children. Everyone is disposable for the GQP. Mia thinks it's between the schools and parents, not the Governor. Sunny reminds this is a public health issue. I am so tired of people ignoring that everyone born after 19xx whatever early century year had to be vaccinated against a half a dozen diseases to even start kindergarten or first grade. Get tf over it, people. Get vaxx and kids should be protected until the vaxx is cleared for children under 12. FL has been undercounting covid illness and covid deaths since 2020.
Hot Topic Thursday Show Stern Goes Off
https://www.youtube.com/watch?v=c6tUDPtD0mI
Stern said >> When are we going to stop putting up with the idiots in this country and just say it's mandatory to get vaccinated? /snip/ F--- them. F--- their freedom. I want my freedom to live. I want to get out of the house. I want to go next door and play chess. I want to go take some pictures. This is bullshit. Panel says all the same things that have been said.
Hot Topic Thursday Show Trump Appointees You're Fired!
https://www.youtube.com/watch?v=J0cPOY77FpA
Biden required the resignation of 18 unqualified Trump appointees, or be fired. Sean Spicer, Kellyanne Conway, and some other dude nobody heard of whined about it. These appointments serve at the pleasure of the Potus, so bye-bye all those insurrection loyalists who had no business being appointed to military boards. Joy makes an age joke about Conway.
Hot Topic Thursday Show Women Can Work and Be Good Parents
https://www.youtube.com/watch?v=bfHTlG1Omp0
ABC Chief Meteorologist Ginger Zee responded to a critic of her being a working mom. In 2021. They barely discuss it, except to say Hello it's 2021.
Hot Topic Thursday Show Simu Liu
https://www.youtube.com/watch?v=VZKiZxJVjqk
Simu Liu, who is very handsome and charming, is promoting Shang-Chi. He talks about >> his dreams growing up, his family and work history, Asian representation, the column he wrote for Variety about rise in Asian hate crimes, doing some of his own stunts, WATCH for it, he does a move on the show lol.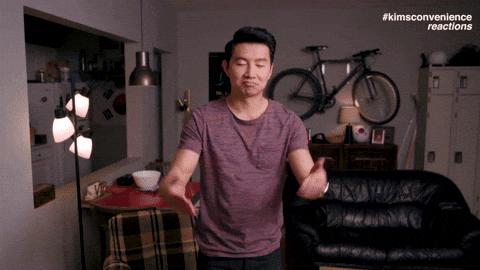 Source links are below each video or section