This tongue-in-cheek post is inspired by
phililen3
here
. It got long, so only four to start!
Melissa Joan Hart
Raised Catholic, Melissa married a Baptist and together they chose to attend a Presbyterian church. She is not quiet about Christianity, often giving interviews to faith-based publications and appearing in films like God is Not Dead and God is Not Dead 2 (
ONTD post
). She says when she wrestles with hard questions, she will close her eyes and "tap into the Holy Spirit and let him speak to me. And you feel that warmth and you feel that change."
As it is written: "There is no one righteous, not even one." (Romans 3:10)
Though she has since denied making antisemetic remarks, Melissa shared on the podcast "Journeys of Faith with Paula Faris" that she warned her 6-year-old son - about his friendship with a Jewish boy - to be wary of people who don't believe in Jesus, because he could not know whether they were "good." (
ONTD post
)
If anyone has material possessions and sees a brother or sister in need but has no pity on them, how can the love of God be in that person? Dear children, let us not love with words or speech but with actions and in truth. (1 John 3:17)
In September of 2017, Melissa complained that Hurricane Maria ruined her planned vacation to the Dominican Republic (though it struck Dominica and Puerto Rico). Hurricane Maria was the deadliest Atlantic hurricane since 2004, with an estimated 3,057 fatalities. It also caused upwards of $91.61 billion in damage and a major humanitarian crisis, with catastrophic flooding, widespread power outages, and slow relief efforts exacerbating the effects. (
ONTD post
)
Way back in 2009, Melissa forgot that no one should seek their own good, but the good of others (1 Corinthians 10:24) and reportedly complained that Farrah Fawcett - then fighting cancer - might die and bump her off the cover of People! (
ONTD post
)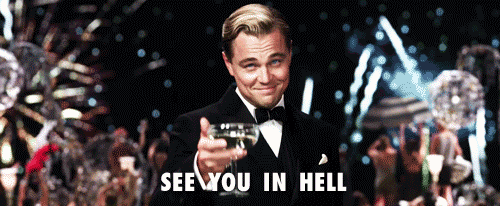 Alec Baldwin (Catholic)
Many of Baldwin's fellow Catholics take issue with the way he's talked about the church in the past - such as telling a photographer in 2012, "I know you got raped by a priest or something" - and his disdain for conservative politics, but he insists he is a lifelong practitioner.
My dear brothers and sisters, take note of this: Everyone should be quick to listen, slow to speak and slow to become angry, because human anger does not produce the righteousness that God desires. (James 1:19-20)
Baldwin is notorious for his temper. For example: leaving abusive and threatening voicemail messages for his 11-year-old daughter (
ONTD post
); being removed from a plane for becoming belligerent when asked to stop playing Words with Friends (
ONTD post
); and, most recently, getting arrested for fighting over a parking spot (
ONTD post
). He's combines his anger with homophobia (
ONTD post
,
ONTD post
), racism (
ONTD post
), and sexism (
ONTD post
).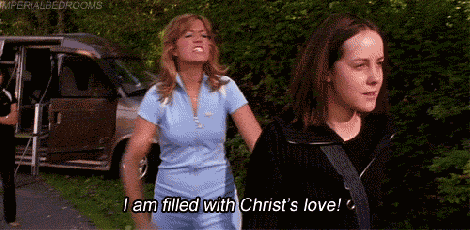 Continue to remember those in prison as if you were together with them in prison, and those who are mistreated as if you yourselves were suffering. (Hebrews 13:3)
Instead of standing up for victims, Baldwin makes a habit of deriding them and reserving his empathy for the "innocent" men accused. He left Twitter over backlash to comments about Harvey Weinstein and 'the culture of paying women for silence' (
ONTD post
), compared Dylan Farrow to the To Kill a Mockingbird charater who lied about her rape (
ONTD post
), and said it was "unfair and sad" that celebrities denounced Woody Allen (
ONTD post
).
Alec at the pearly gates:
Click to view
Chuck Norris (Evangelical)
Norris makes no secret of his religious affiliation. He's (co-)authored several books about his life that focus on his faith, including Against All Odds: My Story. Like Alec Baldwin, he sides with predators.
He endorsed Roy Moore in his Alabama Senate race, claiming that "Judge Roy Moore is the real deal. He's tough, tested, and has a spine of steel. Alabama needs Judge Moore there doing what he's always done: fighting to protect our constitutional rights to life, religious liberty, and the freedom to protect ourselves and our families. And he will always put principle over politics."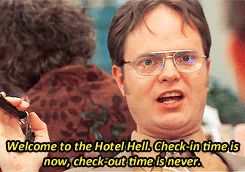 No one who practices deceit will dwell in my house; no one who speaks falsely will stand in my presence. (Psalm 101:7)
Norris frequently spreads conservative propoganda, conspiracy theories, and anti-science rhetoric. His claims include that atheists are attempting to outlaw Christianity, that Barack Obama intentionally let undocumented immigrants into the country to bolster Democratic voting numbers, that the federal government plotted to take over Texas, and - of course - chemtrails. He is also a young Earth Creationist, an anti-vaxxer, and an opponent of genetically modified food.
I have to include his work for the National Council on Bible Curriculum in Public Schools, too. He and his wife made a series of what seem to be VHS tapes about getting biblical education into public schools:
Click to view
Donald Trump (Presbyterian)
Though Trump tends to keep things vague (and often flubs basic questions anyone with a passing familiarity with Christianity could answer), he does claim to be a Christian.
In the book "he" wrote during the 2016 election, Great Again, he says: "I think people are shocked when they find out that I am Christian, that I am a religious person. They see me with all the surroundings of wealth, so they sometimes don't associate that with being religious. That's not accurate." (pssst ... It is easier for a camel to go through the eye of a needle than for a rich man to enter the kingdom of God. (Matthew 19:24))
But hoarding ill-gotten wealth is the least of Trump's sins.
Reclaiming Jesus
is a manifesto written by two dozen faith leaders, including Michael Curry (the Anglican bishop who preached at Prince Harry and Meghan Markle's wedding), that warns of a "dangerous crisis of moral and political leadership at the highest levels of our government and in our churches." The writers go on to reject hallmarks of the Trump administration like the resurgence of white nationalism and the use of racial bigotry for political gain; misogyny, sexual misconduct and abuse; growing attacks on immigrants and refugees; reducing programs for the poor while cutting taxes for the rich; the normalisation of lying by the nation's highest leaders; xenophobia; and environmental mismanagement.
Burn, baby, burn!
GCBs*
Kristen Chenoweth (Baptist)
Broadway superstar Kristen Chenoweth has been vocal about her faith and how it inspires her to live a kinder life: "I'm an actress and a singer and I'm also a Christian. We're not all crazy right-wingers. I just want to be like Jesus, forgiving and loving and nonjudgmental, accepting of everyone even if they don't agree."
Martin Sheen (Catholic)
Emmy winner Martin Sheen, who returned to his faith after becoming seriously ill while filming Apocalypse Now, chose his stage name to honor the theologian Fulton J. Sheen. He speaks well of other faiths and says of his own: "It doesn't really matter how much of the rules or the dogma we accepted and lived by if we're not really living by the fundamental creed of the Catholic Church, which is service to others and finding God in ourselves and then seeing God in everyone."
Mr. T (Evangelical)
After Hurricane Katrina in 2005, Mr. T gave away all his gold, saying, "As a Christian, when I saw other people lose their lives and lose their land and property... I felt that it would be a sin before God for me to continue wearing my gold."
*Good Christian bitches
SOURCES: Past ONTD posts and the good book.
Chuck Norris video
,
Eric Andre video
,
manifesto