I was a bit overwhelmed by the discussion of Buffy issue #35 in my LJ. 200-plus comments and counting! I'm sorry if I haven't replied to all comments - I'm slowly catching up and I discover incredible insights into BtVS, Buffy, Angel, Spike, fanfiction, fandom in general, etc.
In other news, my fic
Black Magic White Lies
got awards in two categories in
round 3 of Absence of Light Awards
- as best het runner-up and best het fan fave.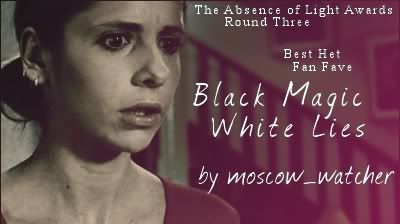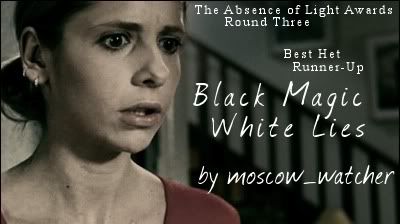 I'm thrilled that people like my Xander/Faith story and I want to thank those who voted for me, as well as
absence_oflight
mods
snowpuppies
and
velvetwhip
who run the community and keep fandom alive. Congratulations to all winners, especially to
deird1
, who happens to be my beta and who got the Best Overall Author award.
And now for something completely different. Today is my posting day in
Seasonal_Spuffy
community, and I wrote a humoristic fic
Shortcut
. The idea was to squeeze all the twists of Spuffy journey into 24 hours - and to make it fun! I hope "Shortcut" will bring smile on your faces :)