So, we,
pellamerethiel
and I, made a Kara/Lee fanmix. Yes, we're obsessed. And they are the most self-destructive couple in the whole universe. Or in all of the universes.
Title: The distance between you and me
Fandom: Battlestar Galactica
Pairing: Kara/Lee
Summary: If you were dead or still alive, I don't care.
Spoilers: well, there are probably some spoilers at least to 4.11 Revelations. but if you didn't see the show you probably won't notice.
A/N: Graphics are made by me. Songs are picked by me and
pellamerethiel
. And also by my iTunes.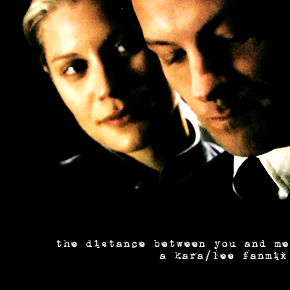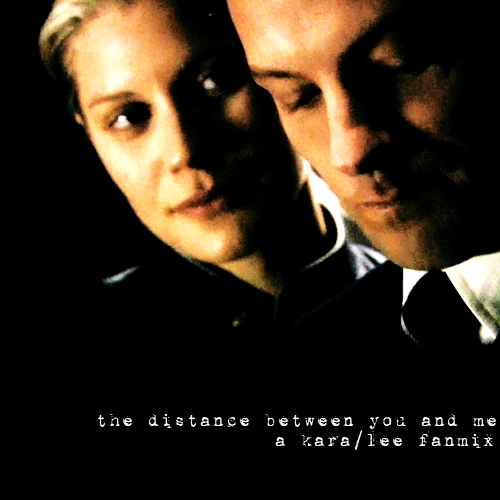 Track list:
1. The Killers - A Dustland Fairytale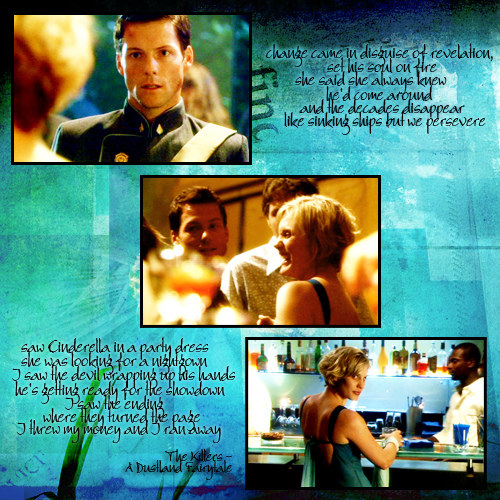 Lee: So, um, that bum knee of yours is looking pretty good. And the other one's not too bad either.
Kara: Lee, if you wanna ask me to dance, just ask.
Lee: You wanna dance?
(1.11 Colonial Day)
2. The Fray - Never Say Never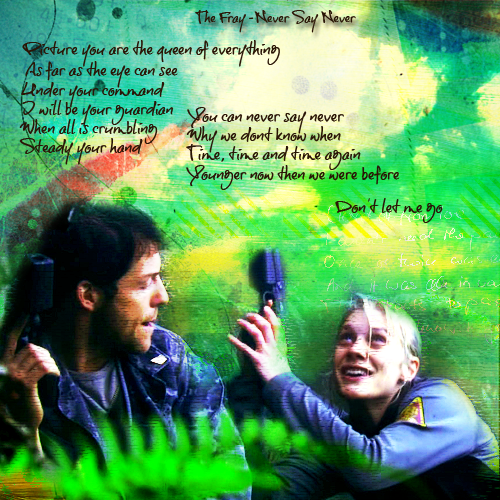 Lee: No, I'm sorry. I can't live like this.
Kara: So, I won't divorce and you won't cheat. So where does that leave us?
Lee: Trapped.
(3.11 The Eye Of Jupiter)
3. Apocalyptica - I Don't Care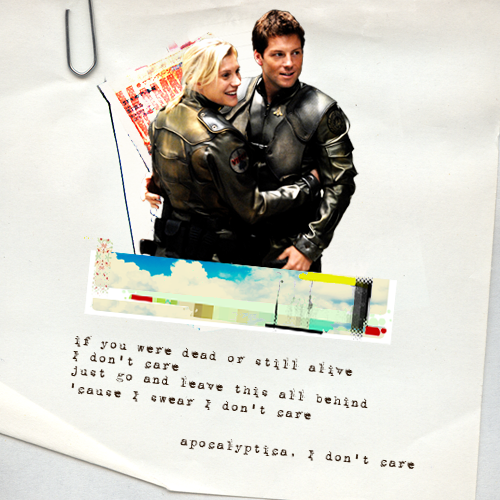 Lee: Ok, listen to me. I don't care. Right? I don't... We've all been through
some crazy, crazy stuff. I don't care what you think you saw. I watched your Viper explode. I don't care. I'm here. You're here. This is all that matters.
(4.18 Islanded in a Stream of Stars)
4. Dead Cab For Cutie - I Will Follow You Into The Dark
Kara: Lee... I'll see you on the other side.
Lee: Kara, please, listen to me! Come back.
Kara: Just let me go.
Lee: Godsdamn it, Kara! You come back! Come back!
Kara: It's okay. Just let me go. They're waiting for me.
(3.17 Maelstrom)
5. Rascal Flatts - What Hurts The Most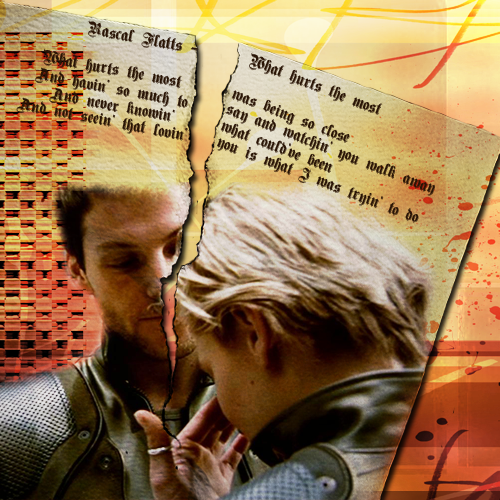 Lee: No. No, I can't believe it.
Sam: Yeah. No, it was crazy. She comes down and she wakes me up. She pops the question, she drags me down to the priest and, bang, like that, we're married.
(3.09 Unfinished Business)
6. Placebo - Running Up That Hill
Kara: The only destiny I have is as a world-class frak-up.
Brenna: Who hurts everyone she cares about.
(3.17 Maelstrom)
7. A Weather - The Feather Test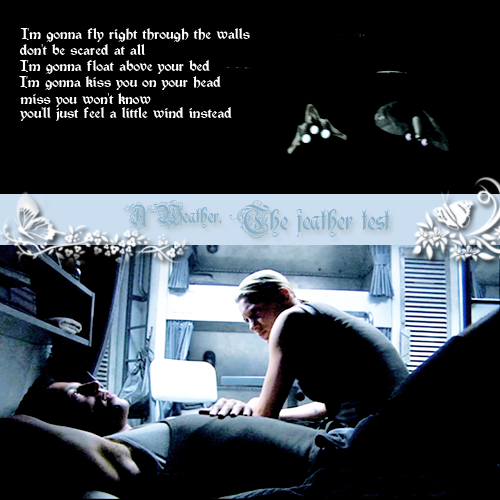 Kara: It turns out I didn't need you anyway. So... let's just be glad that we both came back alive, all right?
Lee: That's just it, Kara. I didn't want to make it back alive.
(2.12 Resurrection Ship, Part 2)
8. Susan Enan feat. Sarah McLachlan - Bring On The Wonder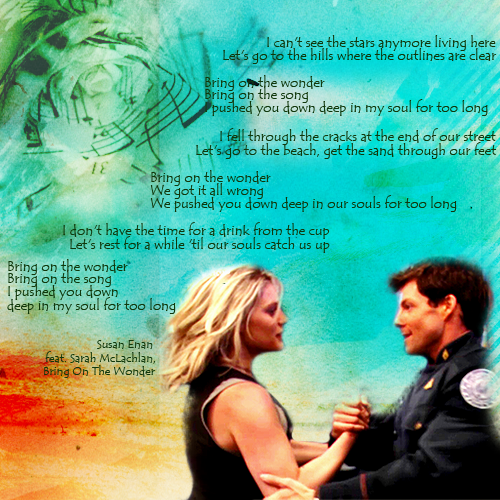 Lee: My name is Lee Adama and I love Kara Thrace! (...)
Kara: Kara Thrace loves Lee Adama!
(3.09 Unfinished Business)
9. Pink - Who Knew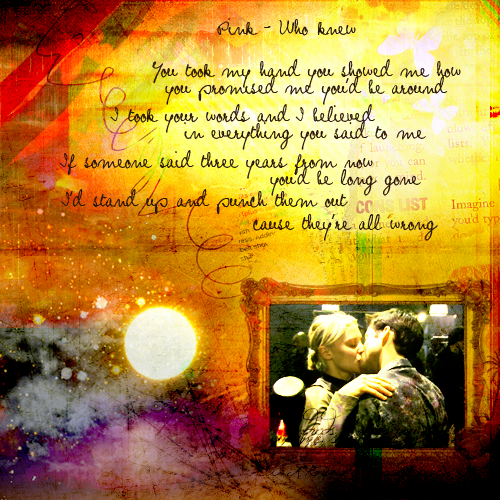 Lee: So what did you take from me?
Lampkin: I was thinking. The photograph that you carry. The girl, the pilot. The one you're carrying. But you've had enough stolen from you already.
(2.18 The Son Also Rises)
10. Saving Abel - Addicted
Lee: Well, that's just great. Frak or fight, huh?
(2.15 Scar)
11. Keane - Somewhere Only We Know
Kara: Temple of Aurora.
Lee: On Earth. At least the way Pythia described it.
Kara: We'll get there. Walk those halls together.
Lee: Yeah, pretty to think so.
(4.11 Revelations)
12. White Lies - Unfinished Business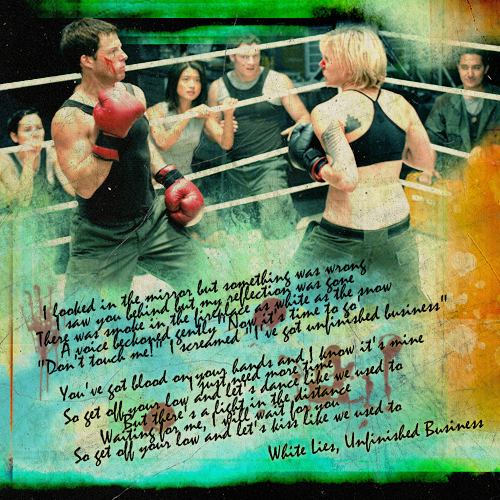 Kara: Where are we going with this, Lee?
Lee: Well, now, that's the question, isn't it-- where are we going? I mean, what if this-- this is it? The rest of your life, Kara. Is this how you want to spend it? Is this who you want to spend it with?
(3.09 Unfinished Business)
13. Joy Division - Love will tear us apart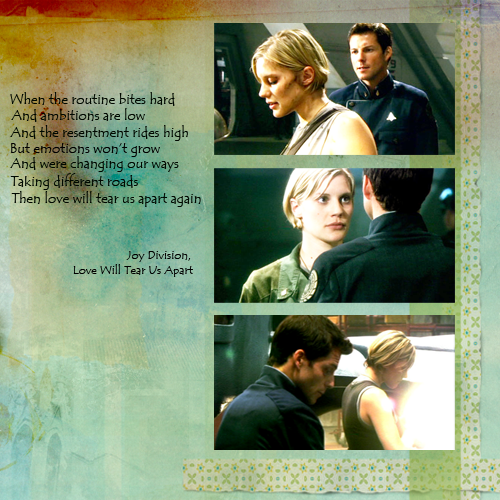 Lee: Why'd you do it, Kara? Just tell me why.
Kara: 'Cause I'm a screw-up, Lee, try and keep that in mind.
(1.12 Cobol's Last Gleaming)
14. Linkin Park - Leave Out All The Rest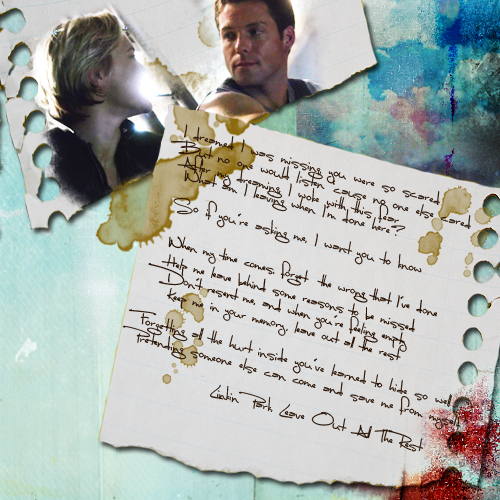 Kara: I'm not going back out there. I don't trust myself.
Lee: Hmm. So trust me. I'll fly your wing.
Kara: The CAG flying my number two?
Lee: Whatever it takes.
(3.17 Maelstrom)
Download:
MU
||
mediafire
Let us know if you're downloading. Feedbacks are love.
Enjoy!